15 Sep

How long does it take to make a cake?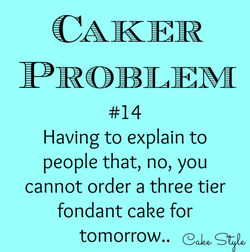 Ahh, one of my favorite questions. The answer: Which part? How long will it take ME, or how long would it take YOU? I have 15 years' experience now and I'm pretty fast. But there are just so many processes that go into making a cake.
When we tell clients that we need a week's notice for all our cakes, we get a lot of shocked faces.   "For a CAKE?  Really?"  Yep.  It's a spatula, not a magic wand.  
Cakes are a multi-day process that we divide into stages. Here's how we do what we do:
Stage 1:  Planning.  What flavor cakes do we need to make?  What type of filling?  What type of frosting?  How much of each recipe do I make?  Do I have the all the needed pans and kitchen equipment?  Do I have all the ingredients?  I make a shopping list and usually go out to purchase all the ingredients before I start.  How about the decorating?  Do I need any special tools or supplies?  Do I have the right size/color cake board?  Better order those early since there is no physical cake supply shop within a 25-mile radius of our shop.  Is there any fondant artwork that needs to be done?  (Any sculpted figures? Two-dimensional pieces? Hand painting?  Sugar flowers?)  Those all require a solid 48 hours of drying time, so I plan accordingly.  
Stage 2: Prep.  Prepare recipes of cake batter in multiple flavors.  Prepare all cake pans with non-stick coating (made in-house). Bake all layers of cake needed for multi-tiered cake.  Prepare whipped mousse filling and cook any fruit fillings.  Make frostings.  Remove cakes from pans to cool.  Trim and wrap each cake layer in plastic wrap and transfer to fridge to chill (preferably overnight).  [Note: the average wedding cake requires 5-7 different recipes prepped and 6-10 separate layers of cake.]   
Stage 3:  Fill & Frost.  Fill and stack each cake layer into separate cake tiers and apply thin icing crumbcoat to each tier; chill in fridge.  Apply second layer of buttercream icing and smooth (or texture) top and sides.  Roll out and drape fondant if needed for an outside layer.  
Stage 4:  Stack & Decorate.  Reinforce each of the lower tiers with straws or dowel supports and stack multi-tiered cakes.  Fill all cake seams.  Create any buttercream flowers to add to cake.  Do any piping, decorating, handpainting to whole cake. Secure 3-tier cakes or larger by driving a wood dowel through the entire finished cake. Add any finishing touches.  Box whole cake and return to fridge until pick up or delivery.     
So what's the answer?  In our studio, I would estimate 3-4 active hours for a single tier birthday cake for 10 guests.  And 10-15 active hours for the average 3 tier buttercream wedding cake for 125 guests. [Note – these estimates are for decorating only! They do not include time for client correspondence, writing contracts, collecting payments, designing, shopping, baking, drying, chilling, washing dishes and kitchen clean up.]